Well, it's been 6 months since my last official book review and to this day, I still don't know why I stopped!?! My last one was
back in August
and it was a crazy time with school and sports starting and adjusting to our new schedules so I guess all of that just threw me out of rhythm. But I'm hoping to do better and get things back on track because y'all know how much I love my (audio)books! I mean, I love real books too and reading on my Kindle is my favorite thing to do during the summer but for the rest of the year, I'm strictly an audio girl while I go about my work/chores/errand-running etc.
Needless to say, all five books I read this month were audiobooks so keep that in mind when I say I "read" them.
This was a great month to get back into doing reviews because all of these were pretty great! Some I liked more than others though so let's dive in!
I started out the month with Reese Witherspoon's Book Club pick,
The Jetsetters.
Now this book gave me This Is Us vibes so already that's a win. It's about Charlotte, a 70-year-old widowed mom to 3 grown children, who have all gone their separate ways and started their own lives. Lee, Charlotte's daughter, is a C list actress and steadily falling. Cord is a venture capitalist in NYC and is hiding a very large secret from his mother and sisters and Regan is a middle-aged mom with marital problems.
Charlotte wins a "Become a Jetsetter" essay contest and gets the whole family to come on a cruise through Greece and Italy for 10 days in hopes it will bring them all back together again, physically and emotionally.
Now, I will say that this is a fun, light read for the most part but in all honesty, it wasn't one I'd read again and I think there are much better options out there if you're looking for something like this. I'd give it 3.5 stars out of 5.
There were some things from Charlotte's past having to do with her late husband and their marriage that she kept secret from her kids and it drove me crazy. I just kept thinking "Why won't you just TELL THEM?!". She also has a love for writing sexy stories which I just felt was a little forced to try and make the book more interesting. I just didn't buy it. She also keeps this a secret from her children and is hoping to read her sexy essay out loud in front of a group of people at a talent show on board the ship at the end of the cruise...as well as her children. That's just awkward, no?
And Cord's "secret" seems so obvious. I couldn't figure out why he wouldn't just come out with it already.
So yes, this could be a fun little beach read to pick up but I can't tell you this is a must-read because to me, it's just not.
Here are some others I definitely recommend over this one. :)
Next up was...
Yesssss!! My favorite author duo is back with another crazy thriller and I loved this one!
You Are Not Alone
is written by the two women who wrote my FAVORITE thriller,
The Wife Between Us.
Shay Miller just wants to be loved. She wants to fit in. She wants real friends. She wants a better job...a better life. And when Shay witnesses the suicide of a woman one ordinary day her life is turned completely upside down. She can't get the woman out of her head and feels a pull toward her. So she attends the woman's memorial service and meets the woman's 2 best friends, Cassandra and Jane Moore. They are glamorous and friendly and shockingly enough to Shay, bring her into their circle. She finally has real friends. Or does she??
You'll find yourself wondering if Shay is crazy or if everyone else is. The author's drop little hints throughout the book and then swing back around to pick them all up and drop them neatly into the puzzle at the end and it's so SATISFYING! I love books like that.
This book was a five-star thriller. I definitely recommend this one!
Since I was coming off a high from the last book, I wanted to keep it going with another psychological thriller. I chose
The Silent Patient
because EVERYONE told me to read it when I asked what I should read next in
my IG stories
one day. And y'all did not let me down! This one was awesome!
I'm going to copy the exact publisher's summary here because I'm scared if I try to summarize it for you, I'll give something away.
Alicia Berenson's life is seemingly perfect. A famous painter married to an in-demand fashion photographer, she lives in a grand house with big windows overlooking a park in one of London's most desirable areas. One evening her husband Gabriel returns home late from a fashion shoot, and Alicia shoots him five times in the face, and then never speaks another word.
Alicia's refusal to talk, or give any kind of explanation, turns a domestic tragedy into something far grander, a mystery that captures the public imagination and casts Alicia into notoriety. The price of her art skyrockets, and she, the silent patient, is hidden away from the tabloids and spotlight at the Grove, a secure forensic unit in North London.
Theo Faber is a criminal psychotherapist who has waited a long time for the opportunity to work with Alicia. His determination to get her to talk and unravel the mystery of why she shot her husband takes him down a twisting path into his own motivations—a search for the truth that threatens to consume him....
Yessssss!! This whole book will have you flipping back and forth between all of your theories on what really happened and why. Again, I'm scared to say much else because I don't want to give anything away but you must read this one if you love mysteries and thrillers. It is TWISTED.
The Wives was the second most suggested book when I asked on Instagram and since I was on a roll with the two thrillers before it, I figured I'd keep it going!
And again, y'all didn't disappoint me! This was another twisted little psychological that had me second-guessing myself every other minute.
Thursday's husband has two other wives, "Monday" and "Tuesday". None of them know each other. They don't know real names or anything about the others except that they share a husband. (Lord have mercy.) Then Thursday decides she wants to dig deeper and basically falls down a rabbit hole. And that's where the crazy starts.
I will say that I never liked Thursday though. Even though she was the main character...I just never really liked her. I felt sorry for her at times but if you're going to enter into the kind of arrangement, there are some things that you're just going to have to deal with. So maybe that's why I never "bonded" to her. But you don't need to like her to love this book. It will keep you guessing and wondering to the very end but like all good thrillers, it also wraps it all up nice and neat for you at the end. This is another MUST READ!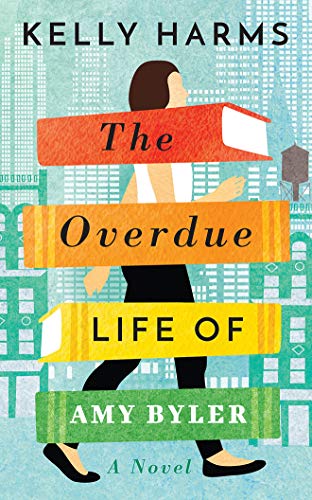 This is #18 on the Amazon Charts and reviews are awesome so I downloaded this immediately. It's not every day you can find a super popular book WITH the audiobook feature from the Kindle Unlimited list so this was great!
So Amy Byler is a single mom whose husband just up and left her and their two young kids out of the blue 3 years ago. He flew to Hong Kong for work and just decided he couldn't come back home again because he felt suffocated. (barf)
So now, three years later, Amy has managed to pick up the pieces and stabilize her family and everything is fine. She may not be rich and things are always tight but they are getting by with her job as a librarian at a private school.
Then her husband comes back. He wants to see the kids. He wants to spend a week with them. And although she's hesitant, he seems like he's trying to make up for being a total (you know what) these past three years. So he takes the kids for a week while she leaves rural Pennsylvania for a week in the Big Apple with her single girlfriend, Talia.
One week turns into the whole summer and Amy finds herself footloose and fancy-free in NYC and Talia decides to use her for a magazine article about her "#momspringa". Amy gets a makeover, gets pampered, gets to date and sleep and eat whenever she wants to without anyone to answer to all summer. And she deserves it!
This book was funny, fun, sweet, and endearing. You'll be rooting for Amy, you'll love her kids, her friends, her "hot librarian" friend and you'll also be wishing you could have your own #momspringa. Haha. This is a great option for a beach/pool read...or maybe we should just scratch that and call it a good "quarantine read". It'll take your mind off the madness.
So that was March! Please give me suggestions on what to read next!! What are you reading?!
Click
HERE
for all my other book reviews if you still need some suggestions!
Stay home, stay healthy and wash those hands, friends! Don't forget to come check out the
Deals group
for all the best sales and fun finds and
my Etsy shop
is waiting for you as well. ;)